Welcome to Gongwalkabout Gongs, Perth, Western Australia.
Telephone me on 0435996183       Email:paulford@gongwalkabout.com.au
I am Paul Ford.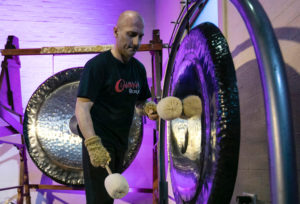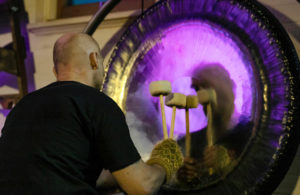 I am available to offer you advice, tutoring upon gong play and gong therapy. Impartial advice upon selecting and purchasing your gongs. Are you considering purchasing your first, or an additional gong?, i can offer you guidance on your purchase. I can explain the differences between the available gongs you will see advertised on the internet.
LEARN TO PLAY GONG, DEVELOP YOUR OWN STYLE, COMPETENTLY.
I can offer you alternative approaches to your already learnt playing styles, consider it as complimentary tuition. I can assist you in developing and broadening your own style of gong play. Trusting your intuitive self, and developing your presence and inclusion in 'gong play'.
---
Now available to order, gong mallets to suit all gongs. Hand made in Perth, using sustainable product and supporting Australian suppliers. Offering difference and purpose, find GONG MALLETS AUSTRALIA on Facebook. 
---
I am based in Perth, Western Australia. I have a rich and diverse background in gong play and gong therapy.
I have facilitated Sound Therapy events, Ceremony and musical performances with the inclusion of Gong's.
---
I have facilitated experimental performances for the public at various events
I can offer you my experience/ knowledge of the gongs on offer globally from manufacturers.
Paiste gongs/ Oetken gongs/ Meinl gongs/ Tone of Life gongs/ Shelledy gongs/ Matt Nolan/ Steve Hubback/ David Blau/ Martin Bläise and other notable gong makers.
The gongs offered by Paiste GmbH&Co Germany, are a popular choice for Sound Therapists and musicians. The Symphonic and Planetary series are common in therapeutic environments. 
---
Oetken gongs.
Gongs by Broder Oetken, based in Northern Germany are highly favoured across the globe. Broder manufactures gongs for Meinl Percussion, who offer their range of Symphonic and Planetary gongs. Broder offers his own gongs of fine quality , which suit Sound therapy applications perfectly.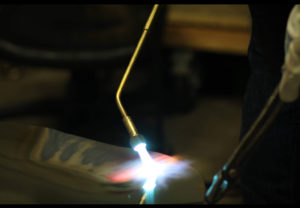 I am a reseller for Oetken gongs, if you have an interest in purchasing any of the Oetken gong range, contact me.
Request the full Oetken Gongs inventory and current pricing list.
email me @ paulford@gongwalkabout.com.au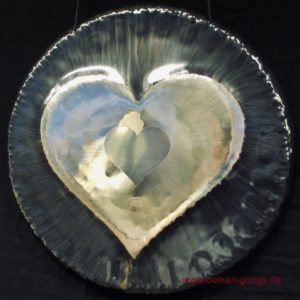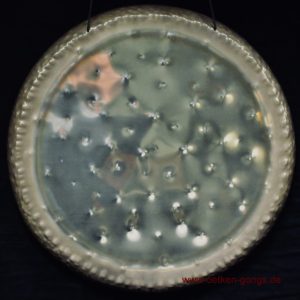 Oetken gongs are manufactured, crafted by hand from Alpaca(Nickel Silver). Broder Oetken offers a rich and diverse range of fine gongs. Traditional 'Symphonic' in a range of sizes up to 60 inches.
Hand crafted in Northern Germany.
Planetary gongs are also available up to forty inches, as are the Earth gongs. Broder also offers his own range of custom tuned gongs.
Attention to fine tuning is given to all the gongs
Contact me for competitive pricings, and with any questions!.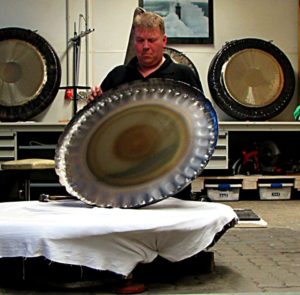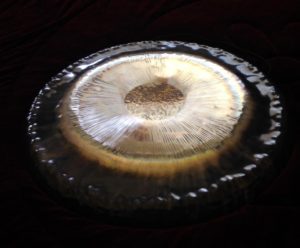 ---
GONG MALLETS.
I manufacture my own range of quality gong mallets, hand made.  Hand made, hand wound yarn and stitched.  Using sustainable timbers, and supporting Aussie industries. My mallets suit all gongs, Paiste/ Meinl/ Oetken and other well known examples.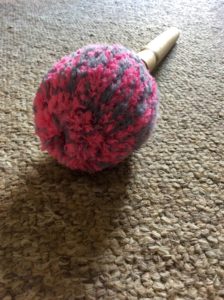 Below are some, but not all of the available mallets. Numerous more are available, to suit you.
'Tiwi' mallets, two sizings 'Minor' & 'Major'. Suited to gongs from 24 inches and up.
'Longneck' mallets, suit gongs 30 inches+
'Lil Nipper' mallets, suit gongs 24-30 inches
'Bruce' XL mallets, for large gongs 50/60 inches +
Free shipping within Australia when you purchase a pair!.
If you experience physical limitations, due to injury or conditions such as arthritis, custom mallets to suit your needs can be tailor made.
---
Titanium tingshaw's by Martin Bläse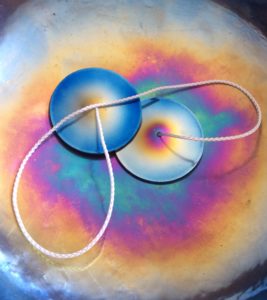 $125
7th octave tuning, offering a distinct pure tone with a long sustain.
Email paulford@gongwalkabout.com.au
---
GONG TUTORING IN PERTH-Enhance your style of gong play!.
I can work with you on a 1-1 basis, to broaden your awareness of your own style of contact with your instruments. how you present yourself, and relate to the therapeutic environment, and your clients.
An experienced gong practitioner and Therapist, I have facilitated individual and group events since 2005
What I facilitate is intuitive and emotionally guided. I trust what I feel is correct to encourage and support in the moment for a participant, or group of person and of becoming centered within what is emerging. 
Are you looking for a truly unique gift for a friend or family member?
Consider giving a Gongwalkabout, 'Gong Bath' experience gift voucher!.
Contact me to discuss possibilities, and your ideas..
Paulford@gongwalkabout.com.au
The Gongwalkabout experience offers personal relaxation, is meditative, and gentle. Described as therapeutic, supportive and promoting personal awareness of a persons emotional and cognitive functioning processes. That is my intention for those who participate, i facilitate an emergent therapy, focused within a here and now perspective.
"I Attended the Annual Reiki Day with particular interest in the gong meditation.  It was unlike anything I have experienced before and would recommend it to any one interested in this type of meditation. Thank you Paul it was a surprising experience"-Janet Marshall.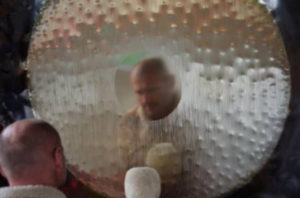 I have worked with gongs and presented them in the therapeutic setting, and in a more diverse and experimental presence since 2005. I participate in Armadale City Council's annual arts festival, the 'Music in the Mall', and 'Music in the Hall' events. Other notable events include Blazing Swan's 'Kraken festival', and I regularly attend the Bedfordale 'Bush Markets'.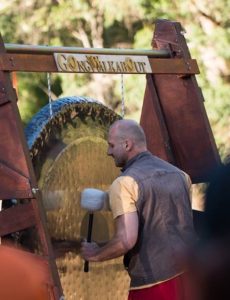 With my foundations in 'Sound Therapy', commonly referred globally as 'gong sound baths'. I am available to host and Co-host with you, events in Perth. I offer group sound baths and individual 1-1 sessions at The Organic Circle's 'Community Space'.

I am qualified, and insured as a business and professional therapist, and as a practitioner of Sound Therapy.
Are you interested in learning as a gong practitioner?. I can offer you tuition in new and alternative ways to which you have been taught. 
Sound therapists, I am available to work with you individually in a process orientated model of supported/ supervised self-inquiry. To how you present yourself, how you make contact with your instruments and your relationship(s), with your clients and yourself.
I can work with yourself, or others with P.A.T (Percussion Assisted Therapy). A model developed by myself, with the inclusion of Gestalt Therapy theory and practice. Developing personal awareness, via supportive inquiry and exploration. Focus is turned towards yourself, and your level of 'presence' in the therapeutic environment. Resulting in a more contactful level of gong play.
An important element of therapy practice is the development of awareness, of 'personal process'. How your own psychological position can affect how you offer yourself in the therapeutic setting, and how you practice your gong play. Meaning making is an important factor in how we live, beliefs and biases, cultural directives all contribute to how you or I position ourselves physically, emotionally and cognitively. Empowerments to your own gong play can be discovered by exploring how we play and what we do. When a person becomes who they are, rather than seeming to be, then the authentic 'individualised' playing style can emerge into practice.
Call or Text: 0435996183
Find me on Facebook, i list my upcoming events on my page!.

Gongwalkabout  https://www.facebook.com/Gongwalkabout/
Gong Mallets Australia  Click here for gong mallets!
Images or the textual content within this website are not to be reproduced elsewhere, without prior permission.