Welcome to Gongwalkabout , Perth, Western Australia.
Telephone me today on 0435996183       Email:paulford@gongwalkabout.com.au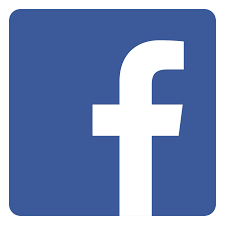 Facebook
Gongwalkabout  https://www.facebook.com/Gongwalkabout/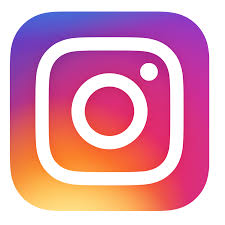 Instagram
@gongwalkabout
I can assist you if you wish to..
1) Seek advice on gongs 
2) Learn to play gong 
3) Offer gongs within the 'Sound Therapy' application model.
4) Experience a 'Gong bath', an immersion in sound.
5) Purchase a gong, i am a recognised reseller of Oetken gongs.
6) Purchase gong mallets and gong stands.
I am a certified, and developing Gestalt Therapist(Gestalt Therapy Institute of West Australia). I can assist you in exploring your own psychological process(s), identifying area's of difficulty/ resistance in life. The embodiment of, and encouragement of emotionality. This can be facilitated through gong play, nurturing your 'expressivity', complimented with a traditional seated therapy. Click on the menu for more information.
I do not take orders for my mallets or stands via an E-commerce 'online store'. I prefer to talk to you in person and to take your payment securely. To be able to explore your needs with clarity, rather than you 'clicking' buttons.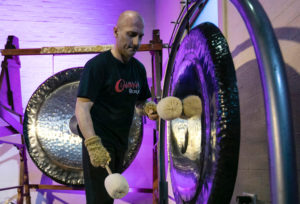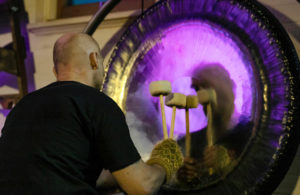 I am available to offer you advice, tutoring upon gong play and gong therapy. Impartial advice upon selecting and purchasing your gongs. Are you considering purchasing your first, or an additional gong?, i can offer you guidance on your purchase. I can explain the differences between the available gongs you will see advertised on the internet.
LEARN TO PLAY GONG, DEVELOP YOUR OWN STYLE, 'COMPETENTLY'.
I can offer you alternative approaches to your already learnt playing styles, consider it as complimentary tuition. I can assist you in developing and broadening your own style of gong play. Trusting your intuitive self, and developing your presence and inclusion in 'gong play'.
"Thank you so much for your time, Paul. You're an absolute inspiration. It's taken our gong play to a new level"-Birte, Nollamara West Australia.
---
I am based in Perth, Western Australia. I have a rich and diverse background in gong play and gong therapy.
I have facilitated Sound Therapy events, Ceremony and musical performances with the inclusion of Gong's.
"I Attended the Annual Reiki Day with particular interest in the gong meditation.  It was unlike anything I have experienced before and would recommend it to any one interested in this type of meditation. Thank you Paul it was a surprising experience"-Janet Marshall.
I can offer you my experience/ knowledge of the gongs on offer globally from manufacturers.
Paiste gongs/ Oetken gongs/ Meinl gongs/Gongland gongs/ Tone of Life gongs/ Shelledy gongs/ Matt Nolan/ Steve Hubback/ David Blau/ Martin Bläise and other notable gong makers.
The gongs offered by Paiste GmbH&Co Germany, are a popular choice for Sound Therapists and musicians. The Symphonic and Planetary series are common in therapeutic environments. Paiste have recently showcased their new 'Bronze gongs', which have been under development as therapeutic instruments. 
The Paiste 'Bronze Gong' set of seven adaptations of the older Paiste 'Esoteric' Sound Creation set circa 1980's. They are crafted from a different copper alloy(CuSn8).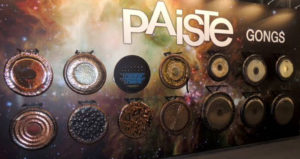 ---
Oetken gongs.
Gongs by Broder Oetken, hand made in Northern Germany are highly favoured across the globe. Broder manufactures gongs for Meinl Percussion, who offer their range of Symphonic and Planetary gongs. Broder offers his own gongs of fine quality , which suit Sound therapy applications perfectly. Broder now offers 50 and 60 inch gongs. Please contact me for a price list for Oetken gongs. 
Oetken gongs are manufactured, crafted by hand from Alpaca(Nickel Silver). Broder Oetken offers a rich and diverse range of fine gongs. Traditional 'Symphonic' in a range of sizes up to 60 inches.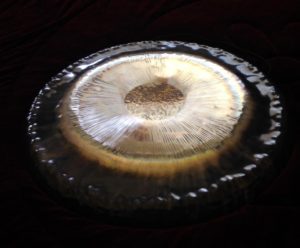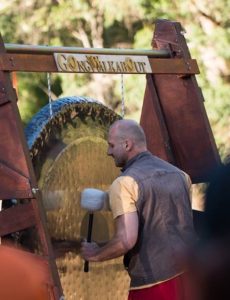 Are you interested in learning as a gong practitioner?. I can offer you tuition in new and alternative ways to which you have been taught. 
Sound therapists, I am available to work with you individually in a process orientated model of supported/ supervised self-inquiry. To how you present yourself, how you make contact with your instruments and your relationship(s), with your clients and yourself.
I can work with yourself, or others with P.A.T (Percussion Assisted Therapy). A model developed by myself, with the inclusion of Gestalt Therapy theory and practice. Developing personal awareness, via supportive inquiry and exploration. Focus is turned towards yourself, and your level of 'presence' in the therapeutic environment. Resulting in a more contactful level of gong play.
An important element of therapy practice is the development of awareness, of 'personal process'. How your own psychological 'emotional' and 'cognitive' being can determine how you offer yourself in the therapeutic setting, and how you practice your gong play. Meaning making is an important factor in how we live, beliefs and biases, cultural directives all contribute to how you or I position ourselves physically, emotionally and cognitively. Empowerments to your own gong play can be discovered by exploring how we play and what we do.
When a person becomes who they are, rather than seeming to be, then the authentic 'individualised' playing style can emerge into practice-Paul Ford
Call or Text: 0435996183
Images or the textual content within this website are not to be reproduced elsewhere, without prior permission.
2015-10-04